Welcome to Lad Family Dentistry Your Premier Arcadia Dentist
Lad Family Dentistry is a full-service dental practice offering a complete range of dental services, from routine cleanings to cosmetic and restorative procedures. We can care for the dental needs of your entire family, from children to teens, adults and seniors. In addition to offering easy-to-schedule routine appointments for cleanings, fillings, cosmetic consultations, and other services, we can also accommodate emergency needs. Just give us a call at (626) 287-4094 and we will do everything in our power to make sure you get the effective dental care you need in a timely fashion. We accept most PPO insurance and we also offer payment plans for some services.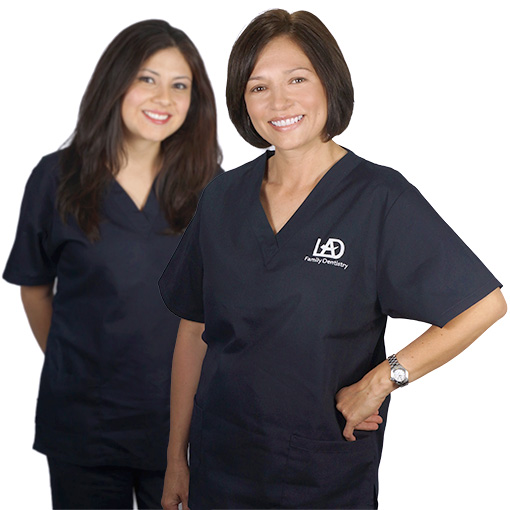 You'll Never Dream of Visiting Another Arcadia Dentist
At Lad Family Dentistry, we've been serving the Arcadia community for over 37 years and we're proud to consider ourselves part of the local community. Our skilled team of dentists, hygienists and office support staff are here to make sure that you always feel safe and well-cared for in our office. Dr. Sunjay Lad and our whole team are patient and kind; kids and adults with dental phobias love them. You don't have to take our word for it—just check out what our past patients are saying for proof. Whether you need to beautify your smile with tooth whitening, replace missing teeth or just get a routine cleaning, come visit us. You won't regret it.
Thorough Dental Cleanings at Your Convenience
Preventative care is a big part of what we do here at Lad Family Dentistry. After all, we want you to keep your natural teeth for as long as possible and the main activity that will help you do that is proper oral hygiene. Be sure to take care of your teeth at home and also come visit us every six months for your regular checkup and dental cleaning. You'll love how thorough and gentle our hygienists are when performing dental cleanings and taking x-rays and you'll appreciate that Dr. Sunjay Lad is always available to spend time answering your questions at the end of every routine cleaning. Feel free to call us any time (626) 287-4094.
As a skilled cosmetic dentist, Dr. Sunjay Lad makes a great partner for improving your smile. We can brighten your smile 4 to 8 shades with professional tooth whitening or conceal problem teeth with veneers. We'll be happy to discuss the various cosmetic services that may be available to you when you visit our office for a cosmetic consultation. We'll listen to your needs and desires and help you form a plan for achieving them. What are you waiting for? Please call us to schedule a visit and get ready to meet a brand new you.
Your Arcadia Dentist Cares About Your Health & Well-being
If you have pain or problems with any of your teeth, come visit Lad Family Dentistry right away. Dr. Sunjay Lad can diagnose your problem and recommend a restorative treatment. For example, we can provide fillings to correct minor cavities or crowns to seal and protect cracked or especially cavity-ridden teeth. We can also perform root canal therapy on damaged or infected teeth in an effort to save those teeth. Of course, sometimes teeth can't be saved and in that case our team of oral care professionals can provide safe and professional tooth extractions. We can also help you replace missing teeth with dental implants, bridges or partial or complete dentures, as your needs may require.
Related Subjects and Resources